Short answer: A gas detector calibration is more thorough & confirms the accuracy of gas detection. Bump tests just check the sensor & alarm actually work.
Gas Detector Bump Test
A bump test is defined as… 
"A brief exposure to a known concentration of gases for the purpose of verifying sensor and alarm operation."
In other words, it's a simple test carried out to make sure the gas detector will respond to exposure to gas and will sound its alarm.
A bump test doesn't tell you anything about the accuracy of the gas detector's performance, but it does give you confidence that it is working and is therefore suitable for use.
In the case of Industrial Scientific's range of gas detectors, the automated bump test procedure exposes the detector to gas (from a bottle of calibration gas). The gas detector must successfully report at least 50% of the target alarm level for each of its sensors within 45 seconds.
If it doesn't, a fail report is generated. A fail report is a red flag that triggers the user to book the detector in for calibration.
Gas Detector Calibration
The gas detector calibration process involves…
Testing the gas detector's sensors against a known calibration standard (i.e. the contents of your bottle of calibration gas), and
Adjusting the gas detector to correct for any inaccuracies.
A gas detector calibration is therefore a much more thorough process than a simple bump test. A successfully calibrated gas detector gives you confidence in the accuracy with which it will detect its target gases.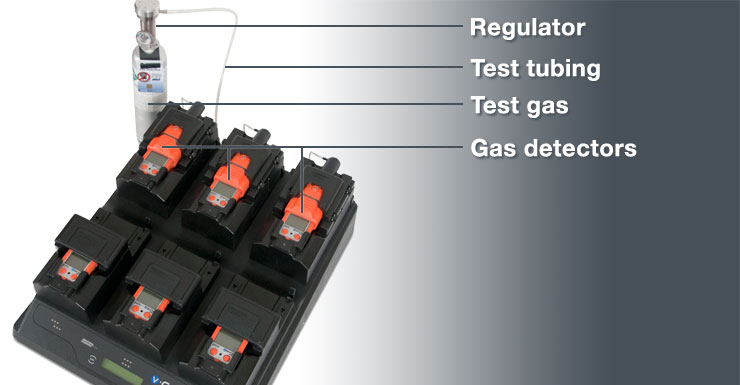 Gas detector calibration set-up
How often should bump tests be carried out?
Best practice for a bump test is daily, and prior to use. Bump testing is the best way to make sure your gas detector actually works before you use it.
A bump test is a very simple process with a docking station, but can also be performed manually without a docking station.
In this modern age, an important benefit of "smart" docking stations is that the docking station maintains a record of the gas detector's history. This provides an excellent paper trail to help with your compliance record-keeping.
How often should gas detectors be calibrated?
Calibration frequencies differ between gas detectors and the manufacturer's recommendation should be heeded. We calibrate all leading brands so give us a call if you need help.
Need advice or service?
Contact New Zealand's gas detection experts at Entec for further advice, or to discuss your detailed requirements, or phone us on +64 9 277-2211. We're here to help.