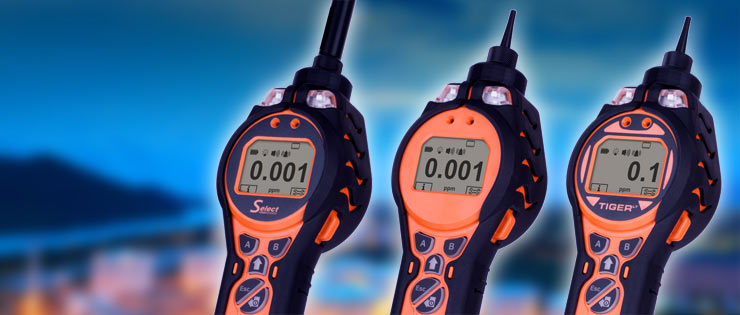 Ion Science Tiger PID handheld gas detectors utilise patented Fence Electrode technology, a 3-electrode format that resists humidity and contamination.
Whether for industrial hygiene, leak detection, or HazMat response, the Ion Science Tiger range delivers the most advanced VOC monitoring capabilities on the market.
The Tiger models of PID gas detectors from Ion Science have a dynamic detection range of 1 PPB to 20,000 PPM, a rapid response time, and built-in correction factors for more than 260 compounds.
Fence Electrode technology: Tiger's photoionisation detection (PID) capabilities use patented Fence Electrode technology, a 3-electrode format with increased resistance to humidity and contamination.
Fast response: The Tiger VOC detector has the fastest response time on the market – just two seconds. And it is just as quick to clear down.
USB connectivity: Tiger gas detectors can be connected directly to a PC via the USB, offering extremely fast data download capabilities.
One hand: Ion Science Tiger offers simple, one-handed operation for easy VOC detection.
Rugged: Its rugged design and protective, removable rubber boot withstand the harshest environments.
Display: The large, clear back-lit display allows for easy viewing in any light condition.
Torch: An integrated torch is designed for directing the detector's probe into dimly-lit areas.
Ion Science have 3 Tiger model variants to choose from and many accessories to cater for different applications. We can also customise locally to suit New Zealand applications.

Tiger Select handheld benzene gas detector: A revolutionary handheld VOC gas detector with two-mode operation for the rapid detection of benzene and Total Aromatic Compounds (TACs) giving accurate data you can rely on.

Tiger handheld humidity-resistant VOC gas detector: Rapid, accurate detection of volatile organic compounds (VOCs). Provides the widest detection range of any VOC gas detector on the market – from 1 ppb to 20,000 ppm.

TigerLT handheld VOC gas detector: A streamlined, entry-level version of the highly popular Tiger VOC Detector, with all the essential functions and best available photoionisation detection (PID) sensor. Low on cost but high on performance.
Ion Science Tiger Gas Detector Range

Tiger Select Benzene & TAC Gas Detector

Tiger VOC Gas Detector

TigerLT VOC Gas Detector

PID independently verified as best performing on the market*
Yes
Yes
Yes
Gas detection range – VOCs
–
1 ppb to 20,000 ppm for specific volatiles
0.1 to 5,000 ppm for specific volatiles
Gas detection range – Benzene
0 to 200 ppm
(in tube mode)
–
–
Gas detection range – TACs
0 to 20,000 ppm
(gas dependent)
–
–
Patented humidity resistance to:
99% RH
99% RH
99% RH
Response Time
T90 < 2 seconds
(TAC mode)
T90 < 2 seconds
T90 < 2 seconds
Anti-contamination design that extends run time and minimises drift and downtime
Yes
Yes
Yes
Fastest 2-second response time and rapid clear down
Yes
Yes
Yes
Designed for easy use and service
Yes
Yes
Yes
Patented Fence Electrode technology
Yes
Yes
–
Exposure monitoring
Yes
Yes
–
Accurate results in all environments
Yes
Yes
Yes
Detects VOCs
Yes
Yes
Yes
Detects Benzene & TACs
Yes
–
–
Easy change miniPID Detector, Electrode Stack and Lamps
Yes
Yes
Yes
Batteries certified to be changed within hazardous areas
Yes
Yes
Yes
Battery life
up to 24 hours
up to 24 hours
up to 24 hours
Loud audible sounders
95 dBA
95 dBA
95 dBA
Bright LED and vibration alarms
Yes
Yes
Yes
Intrinsically Safe Approvals
ATEX, IECEx, CUL
ATEX, IECEx, CUL
ATEX, IECEx, UL, CSA
Warranty
2 years
2 years
2 years
* Independently verified by the State of Maine's Department of Environmental Protection (ME DEP).
Click here for Ion Science's supporting press release.
For further information and pricing, contact us or fill out the enquiry form at the top of this page.
Related Products
Find out more about the Tiger range of handheld PID gas detectors at the Ion Science website here.