Cradle-to-grave sales, installation, commissioning and service for fixed gas detector systems from the world's leading manufacturers.
We offer products from world-leading manufacturers to provide high quality fixed gas detector systems for every application. Entec works with Teledyne (Oldham and Simtronics brands), Honeywell Analytics, Uniphos, Ion Science and International Gas Detectors (IGD).
Entec has a full instrumentation and electrical installation and service capability, with a particular specialist niche in hazardous area applications. This sets us apart from retail-oriented and other less-experienced suppliers.
We are unique in our ability to offer cradle-to-grave support for fixed gas detection projects. These cover…
Specification and supply of fixed gas detector systems
Installation and commissioning of fixed gas detector systems
Life-cycle field service of fixed gas detector systems
Fixed Gas Detector Range
Our fixed gas detector range can be depicted as a pyramid…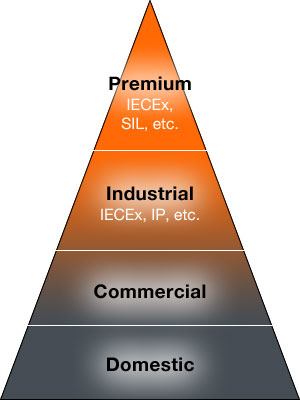 Applications
Exploration and production drilling rigs
Oil & gas production stations
Onshore oil & gas terminals
Refineries and chemical plants
Dairy factories
Pulp & paper mills
Power stations
Waste water facilities and landfills
Utilities
Laboratories
Refrigeration and HVAC
Car parks and garages
Domestic services (CO, Natural gas, LPG)
Technologies
Point infrared (IR) for hydrocarbons.
Open path IR for hydrocarbons.
Catalytic sensors for LEL, H2 and high temperature.
Electro-chemical, semiconductor, photoionization (PID), tuneable laser diode (TLD) & chemcassette for toxic gases.
Ultrasonic sensors for gas releases.
Smart swappable sensors – can be calibrated off site and swapped on site.
Addressable, 2-wire system – cost effective technology with low installation costs for safe area applications (not hazardous area or SIL rated).
Field mounted transmitter and control platforms.
Interface with DCS, PLC, BMS etc, 4-20mA, Relay, Hart, Modbus, Field Bus, Wireless, Bac Net.
For a quote or to find out more, give us a call…
Quick Links
In the Fixed Gas Detector Systems section of our website we have the following pages…