iNet is a subscription-based gas detection program. Get peace of mind over staff safety, instrument maintenance, and produce required records on demand.
You're plenty busy focusing on the things that matter to your business. We'll free you up by focusing on your gas detection program.
Overcome common challenges to achieve an efficient, cost-effective gas detection program in which your team is kept safe.
iNet Benefits
Instrument Maintenance
Schedule instrument bump tests and calibrations to occur automatically.
Receive replacement units from Entec when iNet detects a malfunctioning instrument in your fleet.
Record Keeping
Provide required records on demand.
Eliminate the prone-to-error task of manually maintaining records.
Field Visibility
Understand how your instruments are being used in the field and the risks your team face.
Use data to proactively correct poor use behaviour.
Click here to download the brochure »
FAQ
Q: What is the difference between subscribing to iNet and maintaining a traditional gas detection program?
A: Watch this video to find out how iNet takes care of your gas detection program for you…
How iNet Works
Dock your gas detector.
Docking station performs bump tests, calibrations, and uploads data to iNet.
iNet Control provides full access to your gas detection program's most critical data.
Replacement gas detectors are delivered to you should iNet uncover a problem.
Your team goes back into the field using reliable gas detectors.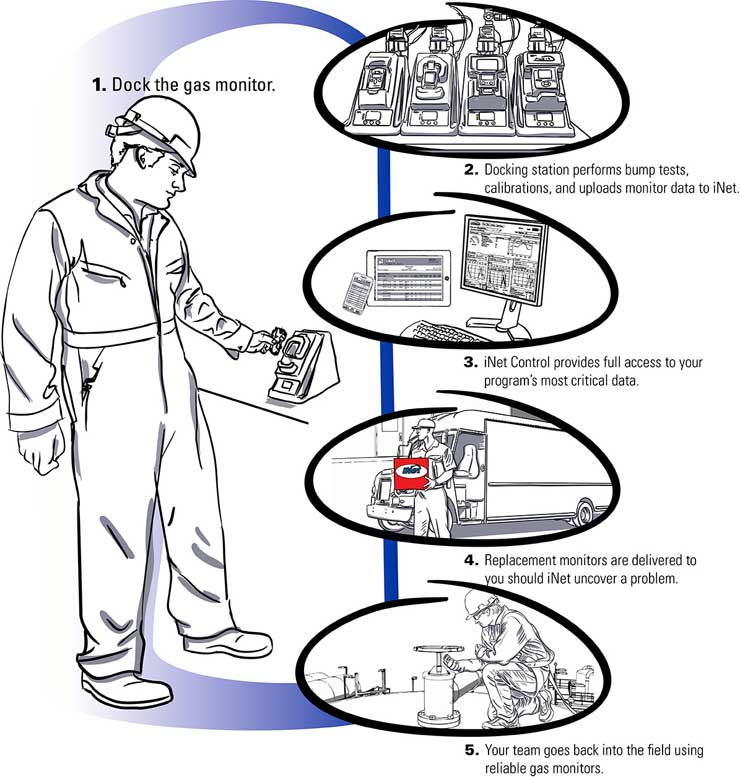 iNet Control
With iNet Control, users can configure and continuously manage their gas detection program from any mobile browser or web-enabled PC.
Case Studies
Learn how iNet helps these companies achieve complete gas detection programs that keep their workers safer in an efficient, cost-effective way…
Oil Refinery: iNet keeps employees at this refinery safer while increasing their productivity.
Download Refinery case study »
"If you have more than 10 instruments, you cannot live without iNet."
– Health & Safety Specialist
Oilfield Services: iNet provides visibility into this oilfield services company's gas detection program while eliminating manual record keeping tasks.
Download Oilfield case study »
"I got an alert about the sensor and the next day I had a new monitor sitting on my desk. With iNet, we can change out the instrument before we're at risk of having a safety situation."
Water Treatment: iNet removed the hassle of maintaining gas instruments while increasing the safety of UK's South West Water team.
Download Water Treatment case study »
"iNet is a cost-effective solution that has removed the hassle of managing our gas detection fleet and has made our people much safer. We now know exactly what is happening in the field through iNet."
– Sam Woollacott.
iNet by the Numbers
Today, there are more than 164,000 gas detectors on iNet at more than 6,900 customer sites in 34+ countries around the world.
Get the training app for iPhone, iPad and Android…

Learn about gas hazards, gas detection techniques, sensor technologies, calibration and bump testing policies, regulations, and intrinsic safety. Find out more here: Gas Detection Training App »