Gas detection education… take the guesswork out of gas detection and gas monitor use with this new gas detection training app for iPhone, iPad & Android.
Get gas detection education on the go with the Gas Detection Made Easy app by Industrial Scientific. Learn about…
Gas hazards
Gas detection techniques
Sensor technologies,
Calibration and bump testing policies,
Regulations, and
Intrinsic safety.
Key features include the ability to take notes, send notes via email, add bookmarks to view at a later time, and perform keyword searches within the app.
The gas detection training app was designed by Industrial Scientific's training team based on the curriculum taught during basic and advanced courses.
The app is geared toward anyone who wants to learn about gas detection techniques and technologies. It is an ideal study tool to reinforce in-person training or a quick reference if you want to refresh your gas detection knowledge.
We are always looking for ways to help people be safer in the field, and for those who can't get regular training refreshers, the app is a great supplement.
– Jeremy DaValle, training team lead, Industrial Scientific.
Having gas detection equipment is only part of the equation. You need to also have an understanding of the hazards you're up against, and this app will be a useful reference guide for users whether they're beginners or veterans.
– Justin McElhattan, president and CEO, Industrial Scientific.
The Gas Detection Made Easy app is free to download from the Apple App Store and Google Play Store.
The app is designed for iPhone, iPad and Android.
Free
Category: Books
Size: 20.8 MB
Language: English
Rated 4+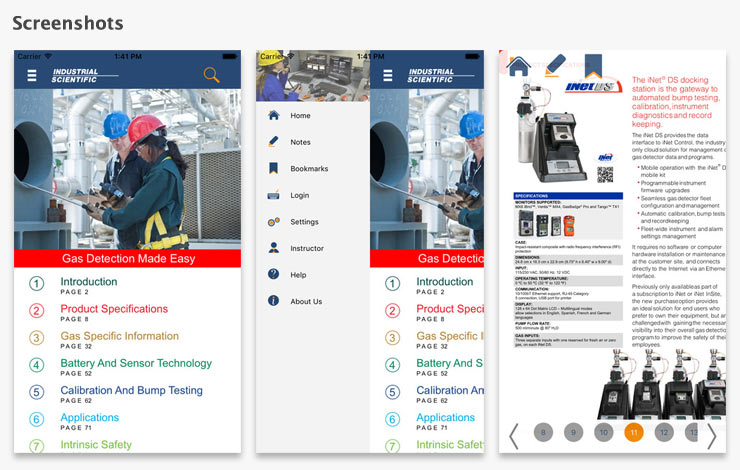 Gas Detection Training Online or Offline
Want to continue your education offline? The gas detection training app provides information about Industrial Scientific's trainers and course schedule so you can choose an in-person class that best fits your needs. A safer gas detection program is just one click away with the Gas Detection Made Easy app by Industrial Scientific, brought to you in New Zealand by the Gas Detectors division of Entec Services Ltd.