In a major new pandemic trend, people are turning to CO2 meters to help assess ventilation quality and help fight coronavirus transmission.
The Washington Post reports that "The impetus for measuring carbon dioxide is simple: An increasingly powerful body of evidence suggests the coronavirus is airborne, capable of traveling distances well beyond six feet in tiny aerosols released when infected people talk, shout, sing or just breathe."
"But there's currently no sensor that can monitor, in real time, whether these infectious aerosols are floating around us when we're indoors.
"But carbon dioxide can, in some ways, act as a proxy. People exhale it when they breathe, and the gas builds up in indoor spaces that aren't well ventilated, reaching concentrations far above the baseline level of outside air.
"'It gives you some insight into ventilation, which is really hard to figure out otherwise,' explains Linsey Marr, an aerosol expert at Virginia Tech."

As the world continues to learn to manage the COVID-19 pandemic, there's a new focus on using CO2 meters to make sure interior spaces are well ventilated to reduce the chances of airborne transmission of the virus.
A CO2 meter is an effective leading indicator of inadequate ventilation in areas that are enclosed and occupied, such as offices, meeting rooms and classrooms.
A new Australian expert group called OzSAGE is pushing for places like schools and businesses to be required to show they have well-ventilated buildings for when people return after lockdown.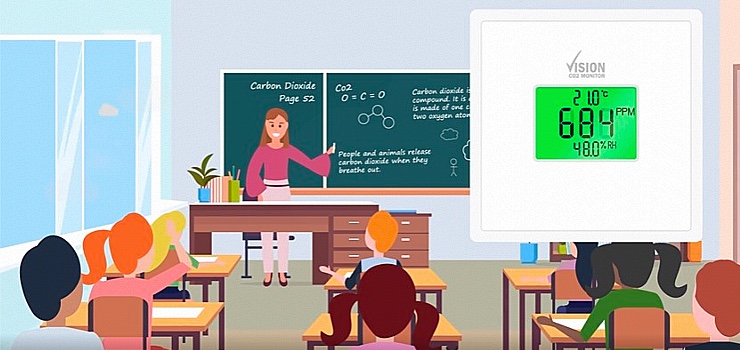 Flamefast Vision CO2 meters
Entec is now working with Flamefast, a British manufacturer specialising in gas safety systems. The Flamefast Vision CO2 Monitor is an effective and affordable tool for the monitoring and recording of CO2 levels in a room.
Flamefast has been a key supplier to classrooms across the United Kingdom as part of the planning to get kids back into schools.
Simple to install
Installing a Vision CO2 meter is as simple as charging your mobile phone. The device can be placed on a shelf or desk and it's powered from a 230V wall socket via a USB charging cable. It also comes with a tamperproof wall bracket for more permanent fixing if desired.
Simple to use
The Vision CO2 Monitor provides clear visual indication of the CO2 levels in the room. It's colour-coded from green (adequate ventilation) to orange (marginal ventilation) and red (ventilation needs to be increased).

Vision's CO2 meter also indicates the room temperature and relative humidity – other good indicators of the comfort level of the atmosphere.
The visual indication of a rise in CO2 levels can then trigger one of a few actions…
Opening doors or windows
Turning on fresh air or filtered heat pumps or air conditioning units
Reducing the number of occupants
Simple to record
The Vision CO2 meter also records CO2 levels in 15-minute intervals for up to 30 days. This data is easy to download via the USB cable, and will provide an excellent indication of the effectiveness of ventilation within the space. This is useful for planning how to populate workplaces, classrooms and other enclosed spaces while minimising the risk of transmission of the virus.
CO2 meters are currently used in schools in countries including Ireland, United Kingdom and Germany, often with a clearly visible display of the reading.
And the Victorian government recently announced CO2 monitoring, ventilation and air filtering would form part of their plan for a safe return to schools.

Simple to act
Entec is preparing to stock Vision CO2 meters for sale. If you're interested in further details to help fight coronavirus transmission in the workplace, give us a shout!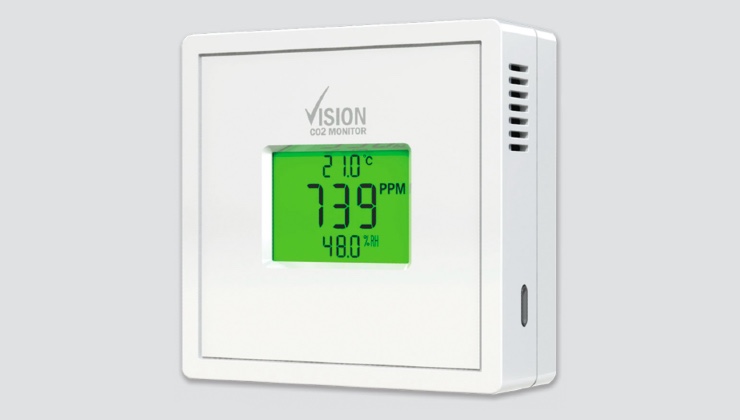 For more information on Vision CO2 meters…
Enquire Here