With Industrial Scientific's new LENS Wireless connectivity, gas detectors are wirelessly connected to form a local network for the ultimate in protection.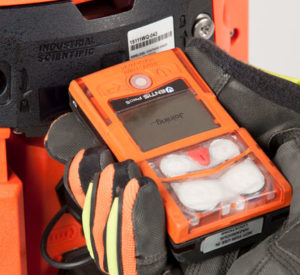 Portable gas detectors and area gas detectors alert you to a detected gas hazard with an audible and visual alarm. Anyone within the immediate vicinity is thereby alerted and a chain of responses can then be put in place. These responses might include…
investigate
evacuate
notify others
But what if you could reduce exposure further by taking user protection up a whole new level? 
Industrial Scientific brings you a real game-changer in gas protection
With its newest generation of portable and area gas detectors, Industrial Scientific introduces LENSTM Wireless connectivity.
Significant benefits of LENSTM Wireless connectivity
Multiple detectors are wirelessly connected, with no setup or configuration required. This provides the ultimate in protection with significant benefits…
All users that are connected are notified of any alarms, from anywhere across the connected team.
Users are also notified of the nature of the hazard (e.g. low O2, high H2S) so that responding users are better informed. This allows for a more effective and safe response.
When used in conjunction with iAssignTM tags, detectors are matched to personnel and to locations, which means responders know (a) who's detector is in alarm, and (b) where it is located.
LENSTM Wireless connectivity now available in these models…
Ventis Pro series of portable gas detectors, in either 4-gas or 5-gas configuration.
Radius BZ1 area gas detector.
This means that all deployed instruments – whether portable or area based – are connected as a local network to provide the next level of safety to people and plant.
See it in action now…
Check out this 2-minute video clip for an overview of how LENSTM Wireless can be used to improve safety on your site…
Any questions?
Don't hesitate to contact us or phone us on +64 9 277-2211 to discuss your precise needs in more detail. We're New Zealand's gas detection experts and we're here to help.
"John's customer care is really good. If anyone was looking to buy product, I would definitely recommend John Langslow. Our relationship is not so formal – there's trust between each other. We would love to have this sort of customer care with every contractor."
– [Name withheld], ventilation manager, mining industry