Why is Industrial Scientific's new Radius BZ1 area gas monitor the bee's knees? John Langslow is Entec's gas detection manager – here's what he says…
Area gas monitors
Plant operators use area gas monitors for increased safety monitoring in specific areas. An area gas monitor is best used in conjunction with a fleet of personal gas detectors.
The area gas monitor is typically configured for several gases. It raises an alarm when any one of the gasses reaches a designated alarm set point.
Area gas monitors are ideal for…
Areas that are particularly prone to gas or atmospheric hazards such as gas leaks.
Where low oxygen or high carbon dioxide could be present in confined spaces.
Area gas monitors are not an alternative to personal gas detectors. Instead, they are an extra device providing another layer of protection.
Radius™ BZ1 area gas monitor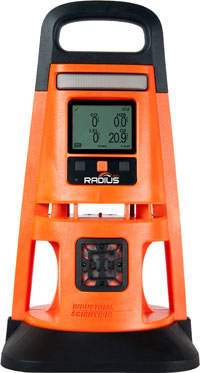 Industrial Scientific released the new Radius™ BZ1 area gas monitor in September 2016. It brings the latest-generation technology into the field of area gas monitoring.
Radius™ BZ1 integrates with Industrial Scientific's Ventis Pro™ family of personal gas detectors. As a package, they take gas detection to the next level of effectiveness and traceability.
Conspicuous: Radius BZ1 is large and highly-visible with its bright safety-orange colour.
Lightweight: At 7.5 kg the Radius BZ1 is light enough to be portable and easily deployed.
Robust: Industrial Scientific designed Radius BZ1 to survive in almost any environment. It carries an IP66 ingress protection rating. And it comes with a 2-year warranty, including sensors and battery.
Key features
Detects up to 7 gases using 15 sensor options (including PID).
Long running time. Typical run time of 7 days on a single charge.
Large and clear display.
LOUD. Audible alarm of 108 dB at 1 metre.
Multi-coloured flashing beacon gives visual alarm information.
LENS Wireless technology
Radius BZ1 area gas monitors use LENS Wireless technology. The same wireless technology as used by the Ventis Pro range of portable gas detectors.
LENS allows peer-to-peer connection of many gas detectors. This includes both personal gas detectors and area gas monitors. All connected devices share gas readings and alarms with one another.
What happens when a gas hazard, man-down, or panic situation sets off one of the detectors? All peers in the connected group are instantly notified of the hazard and the person in danger. When seconds matter, users can rely on help from workers nearby. Which is much more responsive than waiting on a remote control room or call centre.
Safecore™
The Safecore gas detection cartridge inside the Radius BZ1 is removable. By placing the cartridge in a docking station, it can be bump-tested or calibrated.
iNet Control System
Docking the cartridge also uploads its operating history into the iNet Control system. iNet Control is Industrial Scientific's powerful cloud-based management tool. It provides…
Record-keeping for management and compliance purposes.
Analysis of the health and effectiveness of the gas detection fleet.
Contact us for advice, or to discuss your detailed requirements. We are New Zealand's gas detection experts.
Phone +64 9 277-2211 » or email gas@entec.co.nz »