This confined space gas detector/gas monitor kit packages together all the items you need to ensure a safe atmosphere before entering a confined space…
Confined space gas detector kit
To simplify the ordering and safe use of portable gas detectors to monitor confined spaces, Entec offers a Confined Space Gas Detector Kit. This kit packages together all the items required to use a portable gas detector safely and reliably.
The kit comes in a rugged carry-case that is easily shipped around the country as required.
It is important to test the air inside confined spaces for oxygen as well as toxic and flammable gases prior to entry. Confined space gas detector kits use a remote sampling pump to pull a gas sample into the monitor for assessment. This is standard practice before entering any confined space.
Confined spaces are deadly spaces
Worksafe New Zealand defines a confined space as "any area that is not intended for human occupancy and that also has the potential for containing a dangerous atmosphere".

Confined spaces are large enough for a worker to enter and perform assigned work but have limited or restricted entry and exit and, amongst other things, may contain a hazardous atmosphere arising from chemicals, sludge or sewage.
Hazardous gases that displace breathable air, e.g. carbon monoxide, hydrogen sulphide, oxygen deficiency, etc.
Toxic gases that are flammable and/or explosive, e.g. oxygen concentration, benzene, solvents, etc.
To comply with the Health and Safety at Work Act 2015 (HSWA) and most importantly to protect workers against man-down incidents, you must evaluate confined spaces before entry. All confined spaces where flammable gases, toxic vapours and abnormal oxygen content are possible should be tested before entry.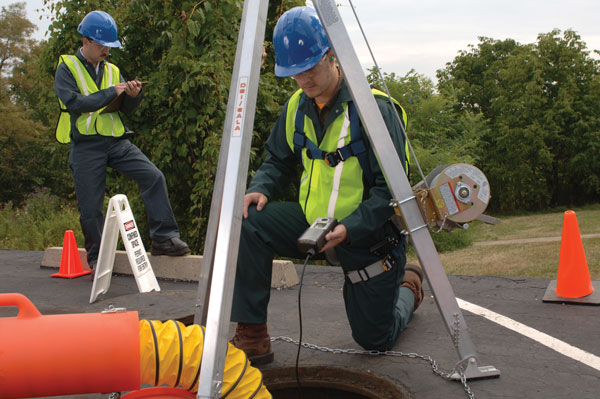 Remote sampling the atmosphere within a confined space prior to entry.
Bump testing
For best practice, you must bump-test your portable gas detectors prior to each use and calibrate them monthly. Our Confined Space Gas Detector Kit contains all the components required for bump-testing and calibration.
Note, the kit allows you to carry out a manual calibration of your portable gas detector. This differs to calibrations performed with Industrial Scientific docking stations or in Entec's service department, in which we generate a calibration record. In the case of a calibration carried out by Entec, we also generate a Calibration Certificate to preserve a paper trail.
Components
Each Confined Space Gas Detector Kit contains the following components;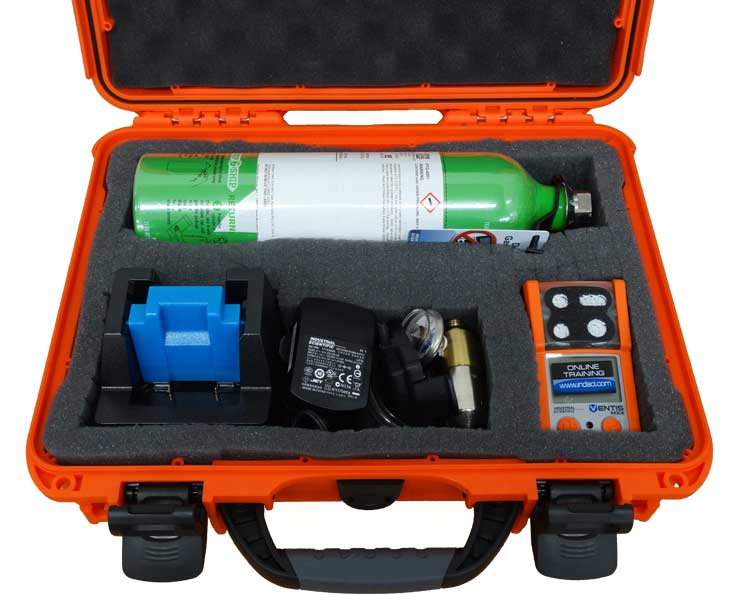 Applications
Entec's Confined Space Gas Detector Kit suits applications such as…
Field service or construction workers who operate away from support infrastructure such as docking stations.
Service technicians operating around gas pipelines or gas appliances.
Maintenance crews operating in trenches, pipelines, culverts, tanks and vessels.
Operators who despatch shared equipment to remote staff from time to time.
Get the training app for iPhone, iPad and Android…

Learn about gas hazards, gas detection techniques, sensor technologies, calibration and bump testing policies, regulations, and intrinsic safety. Find out more here: Gas Detection Training App »