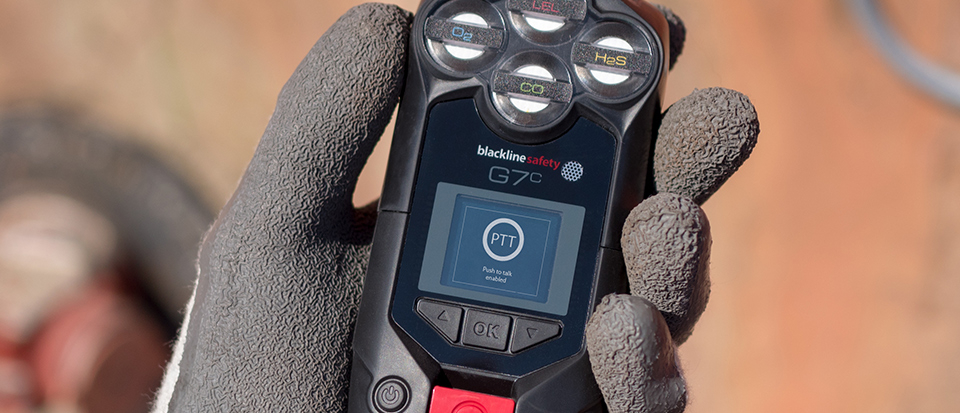 Technology has made lone worker safety devices more practical and affordable than ever, resulting in growing demand from employers and safety professionals.
Radio telephones have been a staple part of field workers' equipment for decades. And the need for portable gas detectors has been long recognised too.
There is now a growing demand from employers and safety professionals for lone worker safety devices, now that technology has developed to make them practical and affordable.
3-in-1 lone worker safety devices
The next stage of evolution in this field is the 3-in-1 lone worker safety device… the G7C lone worker monitor and multi-gas detector with push-to-talk (PTT) functionality.
What is the G7C with push-to-talk?
G7C is the proven lone worker monitor with built-in gas detection capability and the addition of radio telephone functionality.
G7C devices connect via a cellular network, providing location and status information on a continuously streamed basis to the management portal (Blackline Live).
PTT (push-to-talk) gives G7C the ability to broadcast 1:1 or 1:many voice conversations across the cellular network.
There are 100 channels on which your team can operate, and up to 250 devices per channel can be connected to PTT at any one time.
There is extensive data on the Blackline Safety G7C at https://www.gasdetectors.co.nz/lone-worker-man-down-alarm/.
Q: Where are lone worker safety devices useful?
A: Wherever you need lone worker monitoring and voice communications.
The G7C is available without gas detection functionality if that's not required. If gas detection is required, even better!
Combining these 3 different functions into a single device makes life simpler…
Users only have to wear one device, not two or three.
Operations staff only have to worry about managing and issuing a single device per user.
The need for battery chargers, and the requirement to ensure equipment is available fully charged when required, gets chopped in half.
And with all alarms (lone worker or gas alarms) directed back to a single portal at Blackline Live, it's easier for safety and supervisory staff to keep an eye on everyone to make sure they are safe.
What's happening with this roll-out?
The G7C lone worker safety device was recently launched in New Zealand. We have a set of G7C with PTT in our demo fleet and can arrange a live demonstration on your site.
Several of our customers are evaluating the benefits of purchasing 3-in-1 lone worker safety devices to increase safety and decrease hassle and operating costs.
To arrange a demo or request further information…

… please contact the gas detection team at Entec today: