They're out of sight but not out of mind… our new Blackline G7 lone worker man down alarm device helps safeguard lone workers, especially in remote areas.
People working by themselves are generally known as "lone workers". Lone workers represent particular safety challenges. For example, how can an alarm be raised if they become injured or incapacitated? And how can you pinpoint their location in the event of an emergency?
The advent of GPS-enabled smart phones is a help, but a phone is no use if its operator is unable to dial out. And for workers in remote locations, cell phone coverage may not be available.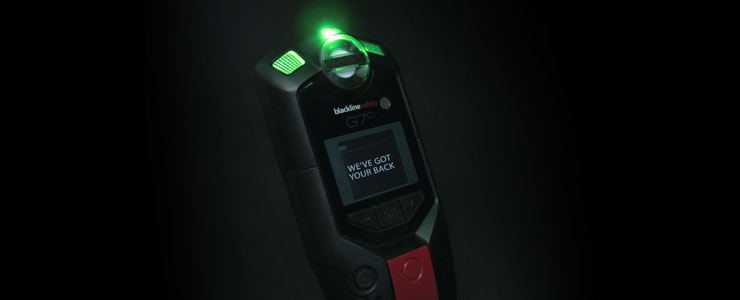 Blackline G7.
New Blackline G7
The new Blackline G7 is a purpose-designed lone worker man down alarm device, providing the best functionality and connectivity to protect yourself or your people when they are working alone.
Blackline G7 is around the same size and weight as a cell phone. It has a GPS receiver, and is connected via either a cellular network (Spark or Vodafone within NZ) or via satellite.
It is designed to be rugged and is approved for use in hazardous areas (Ex ia IICT4 GA, Ex ia III T4 Da), and has an IP67 rating to withstand the most inclement weather. It should be worn on the person for maximum effectiveness.
Blackline G7 also has optional gas detection capabilities, with swappable sensor cartridges to detect either 1 or 4 gases, including LEL and the primary toxic gases.
Raising the alarm
Blackline G7 will raise an alarm under any of the following scenarios…
Manual activation by its user, indicating that they need assistance.
Auto activation in the event of a fall or other impact.
Auto activation in the absence of movement for a pre-set time.
Auto activation if a target gas is detected above the alarm point (if the optional gas detection cartridge is deployed).
Responding to Blackline G7 alarms
Blackline Safety operates a 24/7 contact centre which receives notice of all alarm events. The Blackline operators can immediately pinpoint the location of the device, and thereby identify its user.
Blackline G7 has two-way voice and text capability. The Blackline operator will attempt to contact the user by voice or text. If it's a false alarm, no further action is taken.
If the user can't respond, or if they request assistance, the Blackline operator will then follow a pre-planned, custom-configured response protocol. This may involve contacting the person's operations base or co-worker, or alerting local emergency services.
Note: You can choose to monitor your own fleet of lone worker devices if you prefer.
Managing the whereabouts and safety of your people
As a Blackline Safety customer, you can login to their website, where the location and alarm status of all of your connected Blackline G7 devices is displayed. A full history of movement, location and alarm status (including gas measurements, if this feature is used) is available on the website.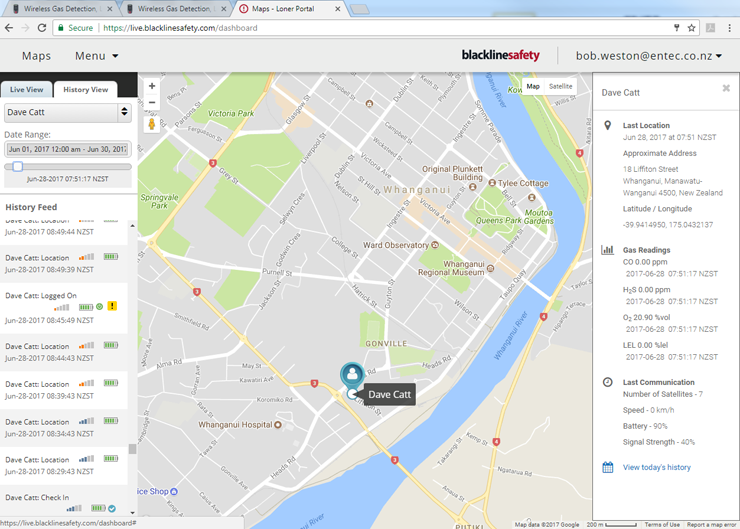 Blackline Safety dashboard.
This means that you can monitor the location and well-being of your people at all times, no matter how far away from base they are working.
Applications
Blackline G7 units are ideal for anyone working alone, or travelling through remote locations. Around the world, Blackline customers in industries as diverse as mining, transport, infrastructure, utilities, energy, fishing, healthcare, law enforcement and agriculture are being protected by the Blackline G7 lone worker man down alarm.
If you'd like to find out more about how this new technology could provide additional protection to your lone workers, talk to the gas detection team at Entec…
To find out more…
Visit our Blackline G7 product page »
Email us at gas@entec.co.nz »
Phone us on (06) 758-3030 ext 2 » (click to call)
Or send an online enquiry below…